Compliant, Competitive, and Convenient.
Sourcewell offers contracts for government, education, and nonprofit institutions.
Kohler Power and Kraft Power are Sourcewell approved vendors.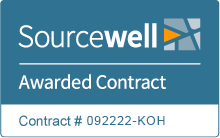 -Trusted process satisfies bid requirements
-Government agency that works like you
-Achievement of Excellence in Procurement recipient
-Buying power of 50,000 members
-Contracts offer ceiling-based pricing, volume discounts
-More than 300 trusted brands under contract
-Full catalog of options for a complete solution
-Easy, no cost membership
Kraft Power offers contracts with Sourcewell for Kohler equipment and services.
Contact us for more information on how to fulfill your projects for stationary generators, towable generators, and generator service contracts.